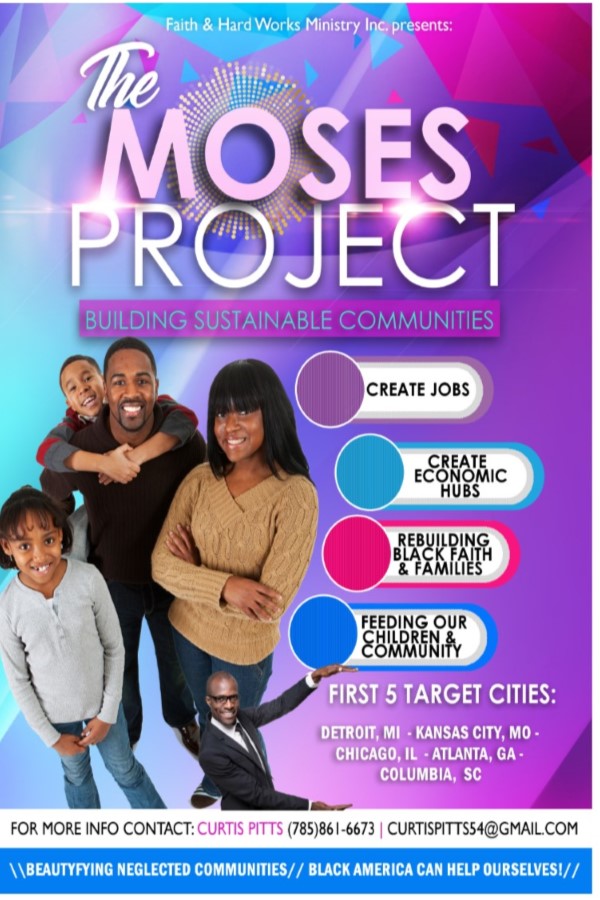 With our Children and Community dying at a devastating rate, it falls upon Us all to unite and create Sustainable Communities for ourselves.
THIS IS A CONCEPT PROGRAM WITH NO TIME TO WAIT!
With our Children and Community dying at a devastating rate, it falls upon Us all to unite and create Sustainable Communities for ourselves. To date no one has developed a cohesive plan to sustain our children and community. Like our ancestors it is our hands to build hope and opportunity at the grass-roots level. This goes beyond political affiliation and hits at the heart of our generational Survivability.
A Call to Action:
Calling all African American organizations and groups to the table. We are calling on the international/national heads of the:
PAWC
NAACP
Congressional Black Caucus (CBC)
National Black Caucus of State Legislators (NBCSL)
National Black Caucus of Local Elected Officials
MANRRS'
Urban League
National Baptist Convention
Church of God in Christ
Dr. Martin Luther King Center for Nonviolent Social Change
Nation of Islam
SCLC
The Potter's House
100 Good Black Men
Jack & Jill
Prince Hall Masons and Affiliated Organizations
Alpha Kappa Alpha Sorority, Inc. (AKA) ...
Alpha Phi Alpha Fraternity, Inc. (ΑΦΑ) ...
Delta Sigma Theta Sorority, Inc. (ΔΣΘ) ...
Iota Phi Theta Fraternity, Inc. (ΙΦΘ) ...
Kappa Alpha Psi Fraternity, Inc. (ΚΑΨ) ...
Omega Psi Phi, Inc. (ΩΨΦ) ...
Phi Beta Sigma Fraternity, Inc. (ΦΒΣ) ...
Sigma Gamma Rho Sorority, Inc. (ΣΓΡ)
National Black Caucus
The National Alliance of Black School Educators (NABSE)
National Alliance of Black School Superintendents
and More!
Description Source More Information
The Center for Disease Control statistical facts indicate we're not being born healthy or a replenishable rate. This statistic also shows the distribution of the 10 leading causes of death among non-Hispanic Black residents in the United States in 2016. In that year, the most significant cause of death among Black residents was heart disease, which contributed to 23.4 percent of deaths among Blacks. However, incidences of homicide contributed to about 3 percent of deaths among the same population.
Center for Disease Control Data:
Blacks ages 18 to 64 are at higher risk of early death than whites.
Disparities in the leading causes of death for Blacks compared with whites are pronounced by early and middle adulthood, including homicide and chronic diseases such as heart disease and diabetes.
Blacks ages 18-34 years and 35-49 years are nine times and five times, respectively, as likely to die from homicide as whites in the same age groups.
Blacks ages 35-64 are 50 percent more likely to have high blood pressure than whites.
Blacks ages 18-49 years, are two times as likely to die from heart disease than whites.
Blacks have the highest death rate for all cancers combined compared with whites.
WHY REQUEST THE PAWC, MANRRS, AND THE 1890 INSTITUTIONS TO LEAD THIS CAMPAIGN OF HOPE?
The 76th PAWC Theme:
"Beyond the Veil: Changing the World Through Agricultural Transformations and Sustainable Partnerships, Practices and Policies"
The Professional Agricultural Workers Conference (PAWC) is a forum committed to a world that values and promotes equal opportunity, and equitable access to information and technology for sustainable development of communities and natural resources. The conference began in 1942 mainly with Tuskegee University, local and state support and participation. It is now nationalin scope including representatives from the national land-grant community, multiple states, federal, private and community-based organization sectors.
The 2019 PAWC & MANRRS' SUMMER OF HOPE MOVEMENT & PROJECT:
The Summer of Hope/Moses Project will offer sustainable community-based programing that will foster hope and commitment. The Summer of Hope Movement/Moses Project will enhance the areas of faith, economics, and local education curriculum. We will use our Business and Leadership Incubator for the project. Our Business and Leadership Incubator is a business development tool designed to accelerate the growth and success of an individual's educational, and entrepreneurial skills through an array of leadership and business support training resources and services. We will use the total Summer of Hope Movement/Moses Project plan to create businesses and cultural hubs in the community that our participants live and ultimately vend. The Business and Leadership Incubator's main goal is to produce successful individuals and Companies that will leave the program intellectually andfinancially viable and free standing. Our incubator "graduates" will leave financially proficient; ready to build a better community; be educationally energized with the intent to create jobs; revitalize their neighborhoods; and be culturally prepared to compete in global markets that is driven by new technologies which will strengthen local and national economies.
We will help eliminate the causes of Fresh Food Deserts. Which are defined as parts of the country void of fresh fruit, vegetables, and other healthy whole foods. They are usually found in impoverished areas. This is largely due to a lack of grocery stores, farmers' markets, and healthy food providers in these areas. These conditions exist due to the lack of resources by its inhabitants. Their limited resources and lack of transportation forces them to purchase fast foods and processed foods from corner stores.
Will provide grass-roots technical and labor driven support, to counter the above-mentioned causes and effects of the barriers to life and the quality of Life in the Black/African American community.
Possible Stakeholders and Site Development Steps:
Organize their local Summer of Hope Movement/ Moses Project team.
Elect officers.
Five organizations minimal.
Incorporate at the state level.
Get a federal employer identification number (EIN) go to internal revenue site.
Get insurance from a company that provides for churches.
Find a church or civic group to allow you to use their property.
Meet with your zoning commission to explain what your faith-based program is going to do in the impoverished community.
Contact local lumber and building companies to request their damaged wood.
Recruit local and state agencies to provide technical support.
Keep it grassroots. All people are welcome but let your children see you lead the positive change.
Request our staff to come and present to your community and committee.
The Summer of Hope Movement action wheel includes:
We will request to align teams and work projects by the MANRRS' Regional Clusters.
We will request Tuskegee University to offer a two-week student summer training Institute at Tuskegee University.
We will provide bus transportation to the target cities and sites.
Students will stay on these sites for four weeks applying their area of study knowledge along with the training given at the two-week classes at Tuskegee University.
Students will receive 6 hours of credit for their participation
Students should be allowed to access Financial Aid funds to participate.
An attempt should be made to access work-study funds from their home Institutions.
We will set-up the living quarters and supervision and behavior expectations.
We will also staff the onsite educators.
We will request MANRRS' to create Jr t MANRRS' to accommodate any interest by local High School students.
We will create 50 family 10x10 gardens in the neighborhoods of Stakeholders.
We will build a 25x15 Outdoor movie screens with a small stage in front of it.
We will build a small open-air market in the target community.
We will seek the donation of slightly damage wood and concrete to achieve the structural goals.
We will seek the professional creation and placing of a construction electrical pole.
We will seek grants and donations to cover staffing transportation, uniforms, and food for all persons involved.
These are some possible assessment areas:
Healthy Family Checks.
Healthy Children Assessment.
Community Healthy Community.
Environmental Health Assessments.
Fresh Food Access Assessment.
Economic & New Business Start Up Assessment.
Incubated/Swop Meet Hub Development Opportunities.
Cultural & Arts/Leisure Assessment.
The PAWC in partnership with MANRRS' must use the above aggressive format if we're going to reach the masses
The PAWC serving as the only real tangible hub of longevity for educational, economic, physical & mental health growth and the capable of sustaining food health in the Urban and rural Black Communities. The PAWC & MANRRS' must take the lead role in reaching out to all African-American based entities and invite them to a one-day workshop at Tuskegee University at the Kellogg Center.
The goal is to create a hands-on functioning team with the PAWC & MANRRS' serving as the tip of the positive change spear.
The PAWC & MANRRS' and its 1890 group will provide instruction and basic training for urban farming. The goal is to have a movement much like they did in the sixties when they had the Freedom Movement, but in this case our goal is to create an Urban farming and economic Hubs in the most impoverished areas across the country. We believe the following cities will be great pilot sites; Flint, Michigan, Tuskegee, Alabama, Topeka, Kansas, Chicago, Illinois and Kansas City, Missouri.
We will build 50, 10x10 gardens in each city for the stakeholders. This will help as we create aesthetic and functional fresh food farms in the most impoverished areas in the African American Community around the nation. We will use sweat equity as a means of motivating the masses and showing them that we can take our destiny in our own hands. We will also partner to deliver fresh food from the PAWC'S Black Farmers as one of our long-term goals.
To accomplish the above we suggest the following steps be taken by MANRRS', Tuskegee University, and the PAWC:
Credit for a 6-hour summer course that allows students from MANRRS' to receive academic credit for their participation. We will need skills in areas of related studies.
Create a two-week training program at Tuskegee that trains all participants.
then we send them out for 30 days in the community to apply the practicum and learned skills sets
We are not talking about a tremendous dollar investment from any of the institutions, but it should be clear that no African-American organization should be let off the hook in participating in this last chance movement.
It should be our goal to take the lead role in requesting a partnership with the government at Flint, Michigan that's in charge of the water issues.
Solicit funds from all over the Nation so that we can prove that we're capable of fixing this crisis rather than posted on Facebook and other places about how long Flint, Michigan has been without freshwater! I believe this movement the Summer of Hope will allow us to motivate our young people and redirect them back to our values that sustained us through slavery, segregation, Jim Crow, and all into our present. I must say again there is no other organization but the PAWC and 1890's group who is stood the test of time and kept tangible ownership and relevance. The Black Farmers have real equity in property and represent actual survivability for the Black Community. I am the motivator and I will assist in any way I can but with the Black Intelligentsia, the Talented 10th, and Aristocracies surrounding and leading these local organizations it will work. Again, we have no choice but to use the PAWC because it is for this Season that God has given us favor! Yes, we are at the crossroads of positive change or destruction. This is the only means prevention of the in-game and destruction and genocide of our community.
We will invite brothers who have been defined as felons, to come in and use that systematic design of incarceration and hopelessness as fuel for them to become positive change agents contributing to society. We know that it most locations probation and parole officers require some level of community service. We believe with the proper structure and they will gladly allow those young men to come in and clean up their communities.
We wish we had a choice but as you can see our young people are starting to commit suicide more than anyone in the United States. We also hope that you realize that the person most likely that get a new case of AIDS is an African-American between the age of 15 and 24. We cannot help but see this is Ground Zero and the PAWC and MANRRS' have no choice but to take the leads. Again, it is for this time that God sustains you.
We believe with a transparent accounting structure the Black Community will support. We have the economic resources within our own Community to build whatever we need. Like the billions we spent to see Black Panther or to buy Nike's, a request for $15.00 dollars per Family and we can fix the water problem in Flint and open 20 Urban Business hubs per year ourselves! We also know that agencies like the FDA, Cargill, John Deere, Monsanto and many other grantors would jump at the opportunity to be a part of something positive like this. We recommend that we do not go out and make this a Black Power thing but a paradigm shift that happens to be ran by Black people to address critical situation in the Black Community!
God bless and Thank you
Curtis Pitts
This email address is being protected from spambots. You need JavaScript enabled to view it. or 785-861-6673
This email address is being protected from spambots. You need JavaScript enabled to view it.
Curtis Pitts
Authorized Independent Representative of IMG Academy
John Madden's Football Academy in Florida
http://www.youtube.com/watch?feature=player_embedded&v=1Ee7johnleA
NFL QB Camp: IMG Academy http://www.usatoday.com/video/index.htm?bctid=1535014855001
http://www.imgacademies.com/contact/international-sales-reps/
Curtis Pitts & Chris Weinke Director of
IMG Madden Football Program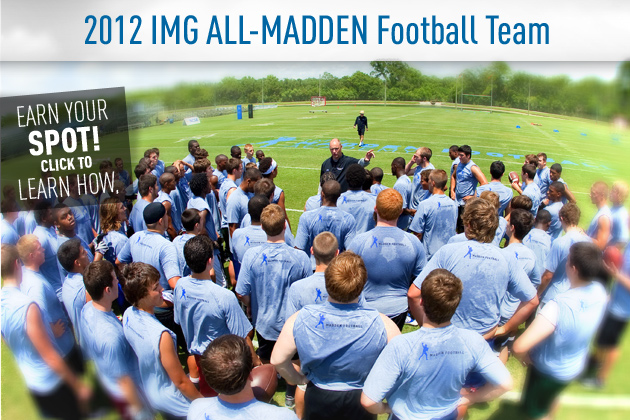 Curtis Pitts, 785-383-1476
Authorized IMG Representative Kansas, Missouri, Nebraska, and Iowa.
NFL QB Camp: IMG Academy http://www.usatoday.com/video/index.htm?bctid=1535014855001
IPI Alumni
Baseball II Football II Tennis II Golf II Basketball II Soccer II Universities
2010 All-Star Friendship Bowl Game - South has leg up on North
Topeka Capital-Journal Article by Rick Peterson - June 5, 2010 - 6:19pm
On a day when offense was extremely hard to come by for both teams, South kicker Connor Frazell proved to be enough, kicking three field goals Saturday to give his team a 9-6 overtime victory over the North in the inaugural U.S. Army Friendship Bowl at Hummer Sports Park.
After kicking a pair of 34-yard field goals earlier in the game, the Iola product booted a game-winning 19-yarder on the South's first overtime possession.
After the South defense kept the North out of the end zone to start the overtime, Manhattan's Derrick Campbell carried three straight times to the 1, setting up Frazell's chip shot to end things.
"It was pretty fun to get to show what I've got," said Frazell, who is headed to Butler Community College. "We all had a good time out here and it was a fun day."
The North, which suited up just 18 players, finished with just 145 total yards, but that was still enough to edge the South, which gained 120 yards on the day.
Still, the South was able to find a way to win, thanks to Frazell.
"We had a kicker on our side and that was our advantage," Campbell said.
Campbell, who led all rushers with 59 yards on 14 carries, said it was good to earn the win even though the game was mostly for fun.
"(The North) had a really good defense and it was hard for me to get started at first, but I think at the end the offense started clicking," said Campbell, who is headed to Hutchinson Community College. "The whole thing is just for fun, but we did want to come out with a victory. It was hard, but we all wanted to win."
Topeka West's Tyrell Brown, who went the distance at quarterback for the South, agreed.
"It's always better to win than lose," said Brown, who will play at Washburn. "I hate losing with a passion. Since we got the win, I'm very good. I don't care if I have five interceptions � that would be bad � but if we come out with a win, it's a good day."
The South took a 3-0 lead on Frazell's first field goal with 1:55 left in the first quarter, but the North took a 6-3 halftime advantage when it recovered a fumble by Brown in the end zone for a touchdown at the 6:16 mark of the second quarter.
Frazell knotted the game at 6 with 3:10 remaining in the third quarter, and he narrowly missed a 40-yard attempt wide left that would have ended the game in regulation.
After forcing the North to punt, Frazell attempted a 66-yard free kick on the final play of regulation, but that kick came up short.
The North gained just two yards on its first three plays of overtime, but threatened on fourth down when a pass from Lex Parson (Oakley) was dropped in the end zone.
Parson was named the most valuable player for the North while Shawnee Heights product Austin Willis got the nod as the MVP for the South. Willis had a couple of nifty returns that put the South in scoring range, while Parson passed for 70 yards on a 5-of-13 performance.
---
Hurricanes Elite Select Football Video.
Hurricanes are in White Jerseys.
http://sharing.theflip.com/session/9937650ade19c09e4b81d20dcb417d3c/video/22680711
785-213-4843
This email address is being protected from spambots. You need JavaScript enabled to view it.
---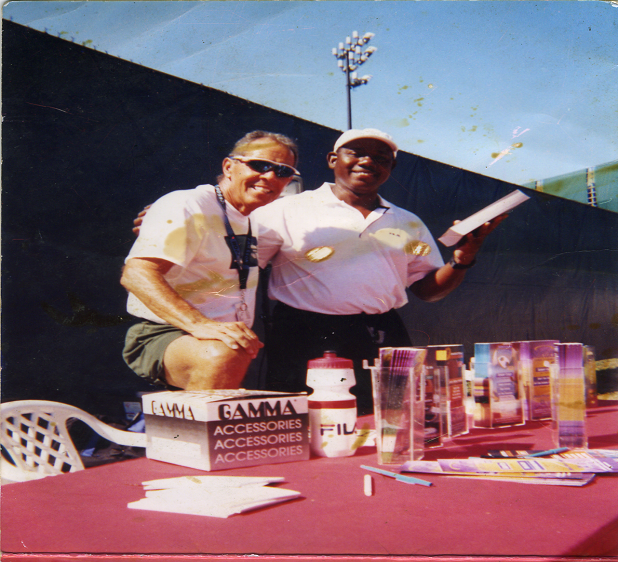 The Director of Athletics & Training,
Coach Herbert Pitts and his mentor the World Famous Nick Bollitieri of IMG Academy
Coach Herb Pitts can be reached for Private Tennis and Fitness Training at 941-404-9195.
Coach Pitts knows what it takes to help athletes functions at their maximum potential. Our philosophy of "Athletic & Mental toughness through our "Efficiency In Movement, Strength & Technical Training System" allows the Neighborhood Academic & Athletic Association's students to achieve their competitive goals.
All Sports Training
The NA&A's "Efficiency Movement ,Strength, & Technical &Training System" (EMSTTS) is designed to make tennis, football, basketball, baseball, soccer, track & field athletes to excel beyond other competitors.
Mental Toughness
As a former Coach at the famous I.P.I. ( International Performance Institute), Coach Pitts has seen how mental toughness makes an athlete that seems average excel above those competitors with natural born talent, and takes an athlete with natural born talent to the ranks of international competitors, and many of them to the champions circle.. We can move you to the level of champions through our system. If you want your child to compete for a NCCA Division I Athletic Scholarship then this program is a must. Learn what the College Coaches expect, and how to train for it. If you commit to success then we can help you!
Coach Herbert Pitts has created the "Efficiency In Movement, Strength & Technical Training Program" with the intent moving a competitors to the next level of academic & athletic competition. Mental & physical toughness is a plus to the pursuit of maximum effort.
Coach Herbert Pitts is licensed through the following Associations:
United States Professional Tennis Association
The European Registry of Professional Tennis
The Spanish Registry of Professional Tennis
---
The Neighborhood Basketball Association
The Kaw Valley Youth Tackle Football League & Hurricanes Football Teams
7
8
9
10
11
12
13
14 up Teams
The Kaw Valley Youth Cheerleading Program - Ologha Track & Field Club - Lotus Performing Arts Program